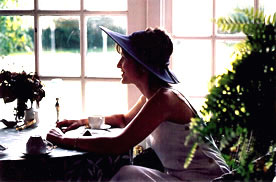 We are so pleased that you plan to "take tea" with us. We hope that you will be able to sit back, relax, and enjoy the surroundings, and the delectable tea service you have chosen. Save time to browse through our gift shop located on the second floor of the inn.
---
Making Reservations
To make a reservation or for answers to your questions, call us at (410) 857-0058 and we will be happy to help you. You may also choose to fax in your reservation to (410) 857-9248. Be sure to include your name, phone number, number in your party, date and time, and the best way for us to contact you in case of questions. Please see our Tearoom Events Policies for additional information.
We are often asked if we have a dress code and we appreciate that inquiry. Because we believe that coming to tea is a special occasion, we suggest that jeans, shorts and halter tops are not appropriate attire.  Feel welcome to bring your children over the age of 5 years.  We do not have high-chairs or accommodations for strollers.