The Kate Pearl Tea Room has four main rooms from which to choose, each with its own unique style. Additional outdoor seating available, weather permitting. Our study currently features the work of local artists.
---
Lydia's Room
SEATS SIXTEEN GUESTS
Lydia's Room…named for the first lady of the historic home – who raised 10 children in the original two room structure!  This room has a more formal setting and has the capacity to seat 16 guests.  It is located on the second floor of the inn.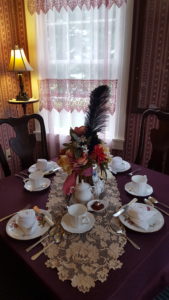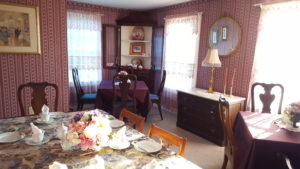 ---
The Magnolia Room
SEATS TWELVE TO FOURTEEN GUESTS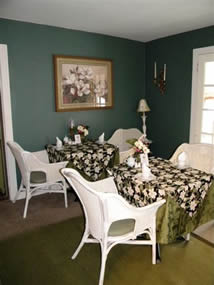 The Magnolia Room…charming "old south" garden room with rattan chairs and lots of greenery; seating capacity of 12 to 14 guests. The veranda (opened as weather permits) adjoins this room and affords guests the opportunity to overlook the beautiful grounds surrounding the inn.
This room is located on the second floor, and is adjacent to Lydia's room.  Larger parties and showers share these two tea rooms to bring their party capacity to 30.
---
The Winchester Room
SEATS SEVENTEEN GUESTS
The Winchester Room was once the parlor and is named after Westminster's founder, William Winchester.  Accommodates up to 17 guests. (The Winchester Room is wheelchair accessible and is located on the first floor of the inn.)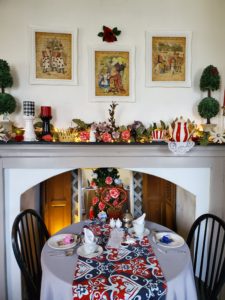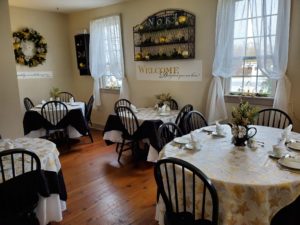 ---
The Study
SEATS SIXTEEN GUESTS
The Study has the red brick wall, and navy and white décor.  This room was once an outside porch and is full of charm. We have added an electric fireplace to warm things up in the winter months.  Can accommodate up to 16 guests.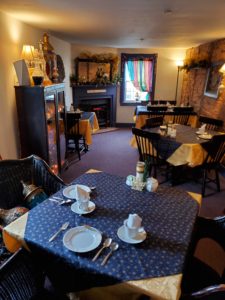 ---
The Little House
A Tearoom especially for children…
"The Little House" is located adjacent to the main inn… the perfect venue for children's parties, ages 5 to 12. Children visit the loft to don their hats, gloves, and boas (or neckties) and then join your hostess downstairs for afternoon tea, which includes a teapot cake for dessert.
Cost for "Little House Parties": $200.00 (inclusive) for a maximum of 10 children.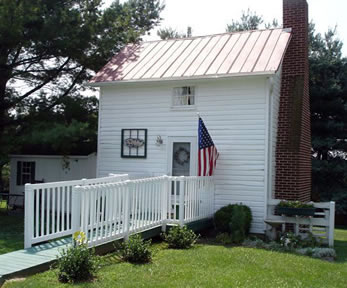 ---
The Tea Shop & Gift Shop
Located in the old kitchen of the inn, the Tea Shop is reminiscent of an English tea shop where guests can select from an extensive line of fine teas, including our own blends.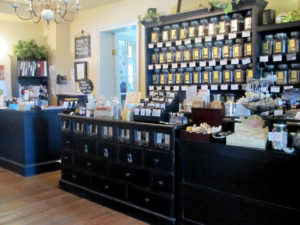 Our Gift Shop…  guests will want to save time to for a trip upstairs to browse our fine china, tea ware, books, tea gifts, scone mixes, local preserves & curds, home decor, candles, lotions & soaps, fascinators & scarves, and teapots & cozies. Custom gift baskets can be ordered for pickup.