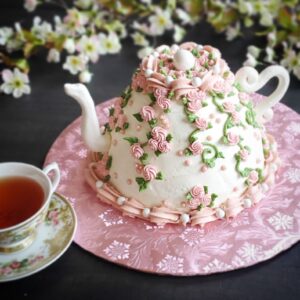 We love to celebrate babies and brides at our tea room!  We can host showers anytime during our regular week –  Wednesday-Friday at 11am or 1pm or on Saturdays at 11am or 2pm.
Westminster, MD Location – We have four tea rooms available for your shower.  The Winchester Room is wheelchair accessible and can hold up to 17 guests.  The Study is a first floor room with one step down which holds up to 15 guests.  Our upstairs rooms, The Magnolia Room (accommodates 12 guests) and The Lydia Room (accommodates 16 guests) are adjacent.  We often host larger showers in those two rooms, which will hold 29 guests all together.   We do not charge a room fee – we just ask you to choose a level of tea service from our regular menu for each of your guests.  A gratuity of 18% is automatically added to parties of 6 or more.
Sykesville, MD Location – We have one main dining room available for your shower and is wheelchair accessible.  It can hold up to 30 guests.
It is very important that we know about ALL food allergies/intolerances BEFORE the date of your event.  We cannot guarantee day-of allergen requests.  If you would like to bring decorations, we recommend balloons and favors, but not table centerpieces (the tables tend to get crowded once the teapots and tea trays arrive).  We do not have a liquor license, so we cannot sell champagne, but we are happy to uncork and serve if you bring bottles with you (at no extra charge).  We offer teapot cakes or bridal cakes for your event.  See more on Custom Cakes. A credit card number will be taken to hold a special events reservation for parties of six and over. We will confirm all reservations in advance. Failure to honor a confirmed shower reservation without notification, will result in a charge to your credit card, not to exceed $100.00.  Each confirmed guest that fails to attend will be a charge of $10 to the party host.   See more on Events Policies.