A Sweet Tradition continues…

Sweet Simplici-Tea Tearoom, Bakery and Gift Shoppe opened for business June 2008 in Historic Downtown Sykesville and was the perfect spot to relax and enjoy an afternoon tea lunch with friends. In early 2023, owner Robyn Zumbrun decided that this was the year she was going to retire so that she could spend more time with her growing family. In the early summer that year she posted the sign in the window to sell Sweet Simplici-Tea. Robyn wanted the new owners to be experienced and be familiar with the tradition of Afternoon Tea and have the desire to see this tradition continue.
Becky and Jessica operate The Kate Pearl Tea Room in Westminster, MD which is an English-style tearoom designed to provide our customers with periods of respite while dining on freshly prepared foods of the highest quality accompanied by a wide variety of fine teas.
Becky and Jessica thought about opening a second location but needed to find the perfect location. After searching and learning that Sweet Simplici-Tea was on the market they decided to pursue the opportunity. Robyn got her wish when Becky and Jessica knocked on her door expressing interest in taking over her Sweet tearoom. On July 27, 2023 Becky and Jessica had officially taken over Sweet Simplici-Tea and renamed it The Kate Pearl Tea Room on Main.
Please call for a reservation: (410) 549-7676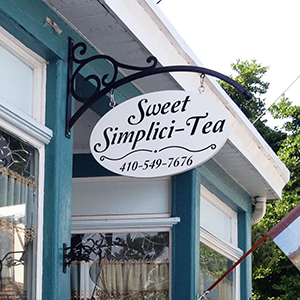 "We cannot begin to express our gratitude for this opportunity to own and operate the wonderful tea room she has built from the ground up. We are thankful for her mentorship as we transition from Sweet Simplici-Tea to The Kate Pearl Tea Room on Main."
The Kate Pearl Tea Room on Main is open and ready to serve you! Thank you so much for your support!
Warmly,
Becky & Jessica